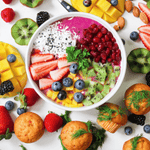 As more people focus on eating clean this new year, we thought we would share some common misconceptions.

Here are some of the most common myths debunked for you:
CARBOHYDRATES ARE BAD FOR HEALTH
Eating carbohydrates from whole foods are relatively healthy and can even help you lose weight. You should limit processed carbs; they are digested quickly and raise your blood sugar, causing many long term health problems.
EGG YOLKS
Egg yolk is considered the fatty part of the egg, and yes, it is, but it contains good cholesterol (HDL) and vitamins and minerals essential for one's health. It also includes antioxidants hence lowering the risk of heart diseases and cancer.
AVOIDING MEATS AND DAIRY
Although the fast-food industry has led many people to believe in becoming vegetarian or vegan, meats and dairy are excellent sources of proteins and vitamins, which are essential for building muscle and maintaining energy throughout the day.

FRUITS ARE TOO SUGARY
Fruits have sugar and a lot of fiber, which slows down the digestion process and slows the glucose absorption into the bloodstream. Fruits have a very balanced amount of sugar and fiber that makes them extremely healthy. Ideally, you will want to consume lower glycemic fruit unless you've just finished exercising, which in that case, you could opt for higher glycemic fruits like bananas.