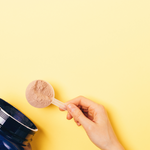 Protein powders are an easy way to ensure the body is nurtured and satisfied. 
People use them for several purposes such as weight loss, improve athletic efficiency, develop muscle mass, and boost general health. 
When shopping, you will find that the choices for protein powder are infinite. How do you find which powder is right for you? 
I've listed all the essential features that a good protein powder must-have. Read further to find out. 
Check out the Origins of the Protein 
Your most reliable choice is to go for a whey protein isolate. It's usually cheaper, full of protein, and it's quickly ingested.
By contrast, the casein-based powder is digested slower and usually reserved for nighttime to go along with your recovery.
Limit the Carbohydrates 
Choose a protein powder that has up to 5% of the daily dose of carbs per portion. Carbs boost insulin, which facilitates the synthesis of amino acids and enhances muscle development. 
Seek the Ratio of the BCAA 
Short for branched-chain amino acids, it has three protein building blocks that are important for development and maintenance. Most labels mention BCAAs in that order as the combination of leucine, isoleucine, and valine. 
Focus on two segments of the leucine to one portion of the isoleucine and one section of the valine. This combination is perfect for muscle growth, fat loss. If such amino acids are not mentioned, opt for another powder that has listed them.
Say No to Sugar
Some protein brands use natural zero-calorie sweeteners, such as stevia; the only issue is that evidence suggests artificial sweeteners can damage helpful intestinal bacteria. 
Although stevia doesn't appear to trigger complications, it tastes funny, and it's always combined with xylitol and sorbitol, sugar alcohols that can lead to bloating and gas, which is why it is always recommended to opt for an unsweetened powder.
Third-Party Seal 
The NSF International, means that the powder has been screened for toxins and drugs banned by professional athletes, and is manufactured in a facility regularly audited for consistency and protection. Not a lot of powders have a seal; it's worth discovering one that does.
Final Word
Pick a good protein powder that is preferably unsweetened with as little ingredients as necessary, protein as the first ingredient specified, and NSF lock.